This year's COVID-19 pandemic has made us spend a lot more time at home. Whether it's working from home or staying in on the weekends and evenings, everyone in Thailand must discover how to maximize productivity while rethinking the entire concept of the home as a life and work hub.


Even as restrictions are being lifted, we're now entering a "new normal" of a decentralized and innovation-driven life. At its peak in May, the number of Thais working and staying at home went up by 23% while workplaces, malls and public transportations saw a plunge in activities around 45-55%.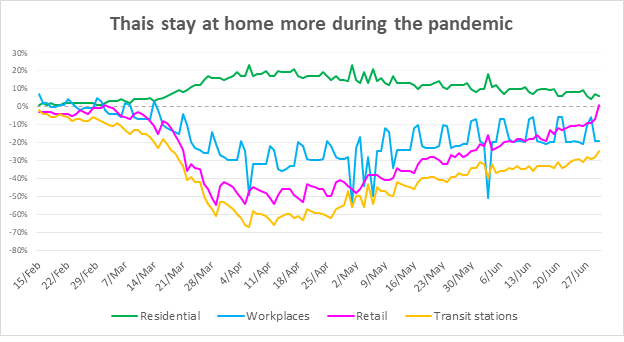 Source: Google COVID-19 Community Mobility Reports
While it's hard to assess the risk of resurgence or when there will be a vaccine – the new normal will mean more exciting home solutions as we all seek a healthier, more comfortable and economical lifestyle that redefines our homes as safe spaces for our families.


At Delta Electronics, we see the following top trends defining the creation of a smarter, greener, and more efficient home of the future in Thailand.



Indoor air quality solutions for healthy homes


Global disruption from infectious disease like COVID-19 is a frightening wake up call for us to take decisive action. The countless reminders to stay home only emphasizes how protecting our loved ones begins at home.


Air pollution can exacerbate the harmful effects of COVID-19.
A recent Harvard University study
found just 1 microgram of PM2.5 per cubic meter corresponded to a 15% increase in COVID-19 deaths.
Another study of air quality
in Italy's hard-hit north also found a correlation between COVID-19 mortality rates and high levels of air pollution. Homeowners in Thailand's smog-filled cities like Bangkok and Chiang Mai should take note and consider investing in indoor air quality solutions to minimize the health hazards posed by PM2.5, VOCs (volatile organic compounds), CO and CO2.
But what's qualifies as an indoor air solution that will improve my home's air quality?


Air purifiers are a cheap fix, but they only clean the air that's already inside your home. A real solution needs outdoor-indoor air exchange, filtration and proper airflow to get the fresh oxygen rich clean air circulating inside and get the dirty air outside your home.  Homeowners can guarantee safe, moisture-free air in all their rooms by installing an indoor air quality (IAQ) solution into their HVAC system.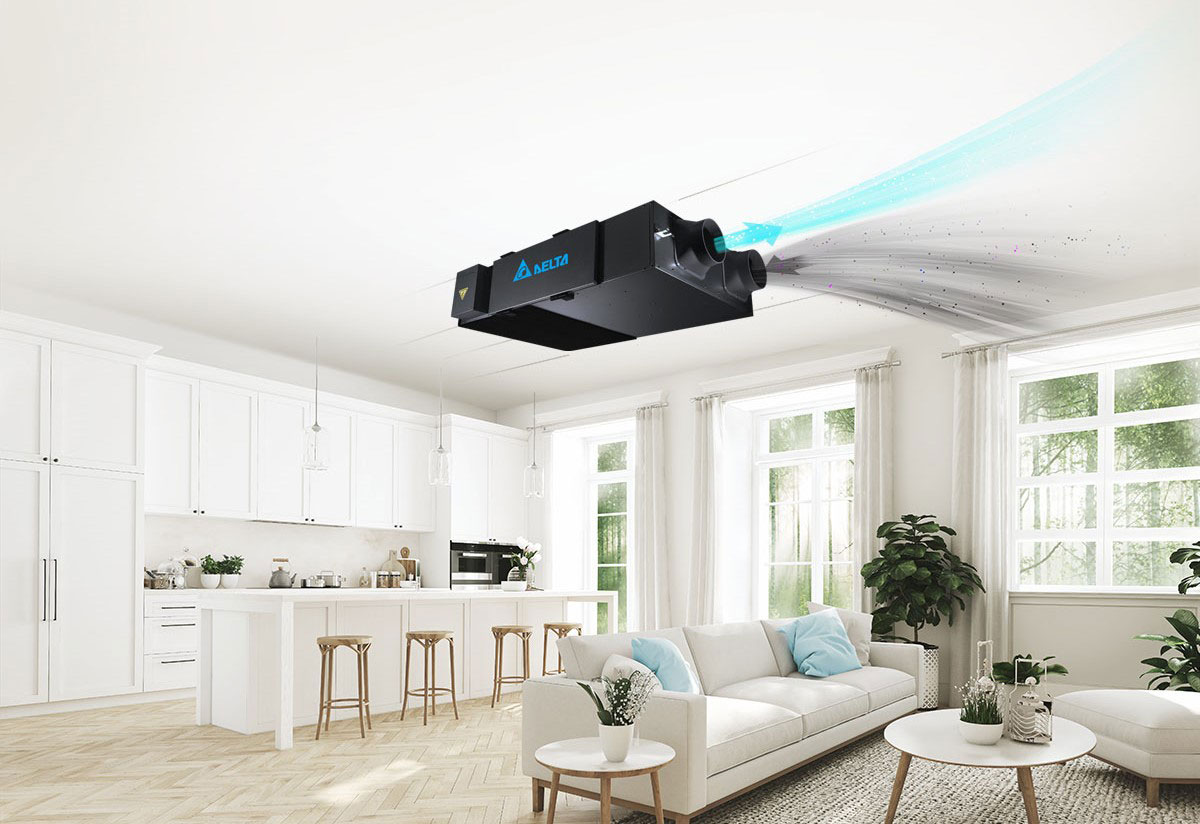 Delta's uses an
energy recovery ventilation (ERV) solution
, which has HEPA (high-efficiency particulate air) filters and a cooling core, to balance clean air flow in your bedrooms and living rooms. The HEPA filter in the ERV blocks PM2.5 at a rate of 97 percent and saves up to 30 percent of the energy used for air conditioning. Meanwhile,
Delta DC motor exhaust fans
in the bathrooms help to clear moisture and provide clean comfort.
Builders and designers around the world choose the ERV for modern homes and buildings because better indoor airflow prevents sick building syndrome (SBS) caused by indoor air pollution. In Thailand, homeowners can learn about
Delta's ERV solution
at the SCG Experience center. Major residential and hotel properties around the country installed
Delta's IAQ solutions
in their buildings.
Smart solutions for comfortable and convenient homes


Once we have a safe and healthy home, we can focus on improving comfort and convenience with smart solutions. Thailand's Board of Investment predicted that Internet of Things (IoT) market in Thailand will enjoy 27% CAGR and reach USD2.19 billion by 2030 – led mostly by consumer-related IoT devices inside people's homes. 


The high humidity and moisture in Thailand is perfect for molds, bacteria and pollen to collect in your home, which exacerbates health problems and destroys walls and furniture. At the same time, many homeowners want efficient but quiet bathroom fans. Delta has smart fans with humidity sensors that have a start and stop function to keep your home dry and pleasant.  Delta fan models with motion sensing can control and save power consumption in spacious buildings like hotels or hospitals.


In the US, Delta developed an award-winning room control device called the O3 Sensor Hub 2.0, which has multiple sensors that determine environment factors like room occupancy and temperature. Users can connect with homeowner's smartphones for convenient and fast control.


Green home innovation that saves on energy and bills


Many people working from home in Thailand were shocked at their high electricity bills– especially after the Metropolitan Electricity Authority (MEA) and Provincial Electricity Authority (PEA) stopped electricity bill subsidy programs in June. With air conditioning taking up the lion's share of home energy use, we can consider choosing sustainable green innovation solutions in our next renovation or installation.


Green building design leverages non-toxic and eco-friendly building materials, alongside maximum energy efficiency solutions to create a better living space. Sunlight, natural shade, wind and airflow can be combined with HEPA air filtration and mechanical ventilation systems to prevent outside pollution while saving energy for air indoor conditioning.


Nowadays, green building standards such as WELL and LEED (Leadership in Energy and Environmental Design) are more accepted in the Thai market, with
more than 120
commercial buildings and development projects nationwide submitting requests for green building recognition from Thai Green Building Institute.
New normal means better homes in Thailand


Until COVID-19 is completely under control and an effective cure is found, we can expect social distancing anywhere outside our homes. That's why we expect a renaissance in green home design and healthy living during the new normal as we take advantage of innovation to redefine the future of home life.


As for
Delta Electronics
, we're committed to bringing our innovative solutions that enrich and save lives around the world to your home as we help rebuild a healthy, prosperous and happy Thailand.